ART & ENTERTAINMENT IN BRIEF 6/9
A special sports, culture and tourism festival featuring members of the Cham ethnic group will be held in the central province of Ninh Thuan between October 14 and 16.

Various cultural activities like art shows, traditional costume shows, brocade weaving contests, a culinary fair and sports competitions will be organised in four venues: Tourism Site at Poklong Garai Waterfall, the stadium of Huu Duc Village, My Nghiep Brocade Weaving Handicraft Village and Bau Truc Ceramic Handicraft Village.

A conference on preserving and developing Cham ethnic culture in parallel with promoting tourism will be the key activity at the event, which will gather both scientists and cultural workers.

The event is expected to attract Cham people from nine localities including Binh Thuan, Phu Yen, An Giang, Tay Ninh, HCM City and Dong Nai.

The localities will take turns hosting the event, which will be held every three years.

According to statistics from 2008, the Cham group was ranked 14th in population size when compared to all 54 ethnic groups in the country, with 145,000 members.

Woodcuts reveal early 20th century life in Hanoi

An exhibition entitled 'Lives of Early 20th Century City Dwellers and Farmers in the Northern Region' opened on August 31 at the Thang Long Royal Citadel, No. 9 Hoang Dieu Street, in Hanoi.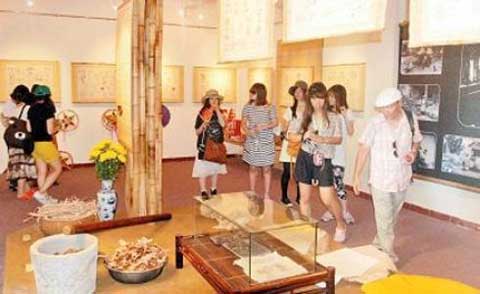 Visitors at the exhibition.


The exhibition features 56 woodcuts by French archaeologist Henri Oger (1885-1936), illustrating various aspects of daily life in Hanoi and the surrounding areas, including food, drink, costumes, and jewelry, as well as traditional crafts, ancestor worship, religion, folk games and musical instruments.

The woodcuts were selected from the book, 'The Techniques of the Annamites', created by Oger between 1907-1909 when he lived and worked in Hanoi.

There are also 71 objects and four videos on display, as well as writings about the material and spiritual lives of people at that time.

The exhibition, co-organised by the Thang Long – Hanoi Vestige Preservation Centre and the French Institute of Far East Studies, will last until February 2013.

Sunday Market offers uniquely designed products

Creative designers will showcase their unique products which are not widely available at the Sunday Market at Ha Noi Cooking Centre Roof Terrace on Sunday, from 10am-3pm.

The market, which takes place every second Sunday of each month, will present silver and ceramic jewelry by Cynthia Mann, European-style men clothes designed by Zeds Threads, woman's and kid's clothing by Kindling, and ceramics from Central Viet Nam by Hoa Gom Champa.

The host – Ha Noi Cooking Centre – will offer a variety of tasty take-away pitas, falafel and cakes.

Ha Noi Cooking Centre is at 44 Chau Long Street, Ba Dinh District.

Malaysia's electronic musicians to debut

The Ha Noi-based DJ/producer/event promoting collective Sub Elements will present the premiere performance tonight of Malaysia's Mushroom Buttons and T.K.I. supported by West Coast US producer and performer Nick Everett of Unconventional Science.

The performance is expected to be an ear-pounding night of contemporary bass heavy grooves, glitch hop, hip hop, trap, dubstep and future garage, combining vintage twisted remixes and originally produced tracks.

Both Takashi Aiman (T.K.I) and Jason Chee's (Mushroom Buttons) will kick the party off with an eclectic mix of cutting-edge tunes during their Viet Nam debut performance tonight.

The show will take place at the Miix, 61A Luong Ngoc Quyen Street. Door opens at 9pm. Tickets available at the door for VND100,000.

Cool Latino party to heat up your weekend

A Latino pool party featuring Cuban dancers, Bachata Contest 2012 winners and an Argentina Tango performer from France will take place on Saturday at the Youth Park Swimming Pool, 1 Vo Thi Sau Street, Hai Ba Trung Distict, from 6pm until midnight.

Expected to be "The Hottest Event of the Month", the party will also present pro Zumba fitness instructors to lead party-goers to get wild.

Latino music like salsa, bachata, reggaeton, and merengue will be played by the most popular DJs in Ha Noi – perfect to dance in a sexy bikini.

Tickets cost VND150,000 for the first 150 tickets, VND250,000 at the venue, and VND150,000 for Bikini before 7pm. Pick up tickets at Fatcat Bar, 25 Ta Hien Street; Canopee Bar, 60 Hang Trong Street; Fusion Bar, 25 Truc Bach Street. Contact Maya Mai at 0922 226262 or email nguyenmaianh@thivus.vn.

DJ Kamel Knight returns to Sofitel Saigon

The Boudoir Lounge at the Hotel Sofitel Saigon Plaza will host the Lil' Paris Party tomorrow with famous French DJ Kamel playing mashup music.

Kamel has made his name as one of the best DJs in town, with frequent revellers recognising his electric flow of funk, hip-hop, r&b and rap on the dance floor.

Boudoir Lounge has the ambience of a chic Parisian apartment, and a classy atmosphere of luxury and sophistication in every detail.

There is a buy 1 vodka get 1 free promotion.

Tables can be booked at h2077-fb1@sofitel.com or (08) 38241555.

Windsor Plaza serves up European food festival

The European Chamber of Commerce in Viet Nam (Eurocham) will host the sixth European Food Festival at Windsor Plaza Saigon on Saturday.

The event will include European food buffet, live music, magic and circus show, lucky draws, a play area for kids and a booth for taking family photographs.

The festival will open at 5.30pm at 18 An Duong Vuong Street in District 5. Tickets priced at VND700,000 for adults and children 12 years and above and VND350,000 for children aged 6-11 are available at the Eurocham Office at 49 Mac Dinh Chi Street in District 1.

Visual and performing arts exhibition opens

DeciBel Longue will present Natural Mystic, an exhibition of visual and performing arts, on September 15.

The exhibition will be Japanese artist Nakayo Sato's first photo exhibition in the city, and it will be supported with experimental music by Thierry Bernad-Gotteland from France, live art and video performances by Un escargot vide (An Empty Snail – artist Sebastian Szczyrk) from France, and DJ Fu of the Jetlag crew.

Sato, a graduate from the Camberwell College of Art – University of the Arts London, is now a freelance photographer.

The exhibition will open from 7pm to 10pm at 79/2/5 Phan Ke Binh Street in District 1. Entrance is free.